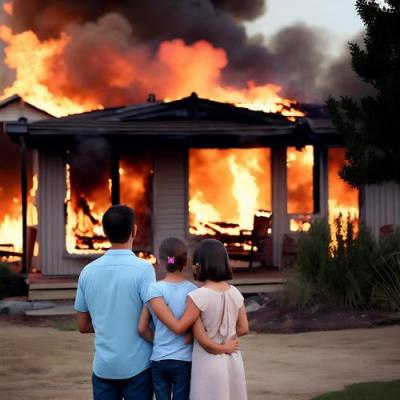 As the weather in southern Australia continues to be a hot topic, homeowners are reminded of the importance of reviewing their insurance coverage.
With bushfire warnings being issued due to extreme heat and wind, it's crucial to ensure that your insurance coverage includes weather-related risks.
Many Australian homeowners may not consider that weather conditions can cause significant damage to their property. However, natural disasters such as bushfires, floods, and storms can cause severe destruction to homes and contents. Without adequate coverage, homeowners could face enormous financial losses and the inability to rebuild or replace their homes and its contents.
It's essential to review your current insurance policy to ensure it covers weather-related risks, including bushfires, floods, hail, and storm damage. Make sure to check that the policy covers both the structure and contents of your property, and that you are insured for the correct amount.
Most importantly, homeowners need to be aware of regional weather conditions and the likelihood of severe weather events. Stay informed about weather reports and take appropriate measures to protect your home and family, such as securing loose objects, clearing gutters, and trimming trees near your property.
It's also wise to evaluate your location's risk to natural disasters and choose an insurance policy that best fits your needs. For example, if you live in an area prone to bushfires, consider adding bushfire coverage to your policy. In contrast, if you live in a flood-prone area, consider taking out flood insurance.
In addition, keep in mind that some weather-related risks are not covered by standard insurance policies. For instance, damage caused by earthquakes or tsunamis may require additional coverage. Consult with your insurance provider to determine if your policy covers these risks and if additional coverage is needed.
In conclusion, weather-related disasters can cause significant destruction to your property and home. As an Australian homeowner, it's crucial to review your insurance policy and ensure that it covers weather-related risks. Stay informed about weather conditions and take appropriate measures to protect your property and loved ones. With careful planning and the right insurance coverage, you can have peace of mind during severe weather conditions.
Published:Monday, 20th Mar 2023
Source: financialservicesonline.com.au
Share this news item:
How to Navigate Health Insurance Premium Hikes


01 Jun 2023: .financialservicesonline.com.au

In a challenging cost-of-living environment, Australians are bracing themselves for another wave of health insurance premium hikes, with Medibank and AHM customers already facing an average 2.96 per cent increase from June 1, 2023. However, scouring for competitive coverage that suits you best can help ease the economic squeeze.

- read more
Aussie Insurers suffering underwriting losses despite increasing investment income.


26 May 2023: .financialservicesonline.com.au

The Australian Prudential Regulation Authority (APRA) has released an industry update that revealed general insurers faced a $100 million underwriting loss in the first quarter of the year. This was a significant drop from their earnings of $1.6 billion in the preceding quarter. The primary reason for this loss is the increase in gross incurred claims, which rose 40.6% from $10.2 billion to $14.4 billion in the December quarter.

- read more
Leaving the Scene of an Accident Results in Denied Insurance Claim


26 May 2023: .financialservicesonline.com.au

Getting into an accident can be a traumatic and stressful experience for anyone. However, having a claim denied by the insurer for not adhering to their policy's conditions can add frustration and confusion to an already difficult situation. Recently, an insurer in Australia declined a claim after the driver left the scene of the accident. But was it the right decision? Let's take a closer look.

- read more