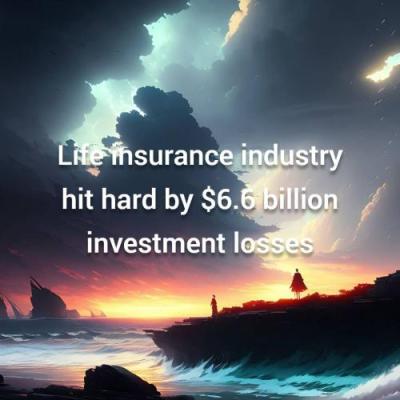 The Australian Prudential Regulation Authority (APRA) has released its latest industry update, revealing a significant slump in net profit after tax for the life industry in Australia.
The industry suffered a 59.3% decrease in net profit after tax to $500 million for the year ending December, primarily due to investment losses of approximately $6.6 billion.
APRA notes that the losses were caused by both realised and unrealised losses on interest-bearing assets, impacting investment returns during the year. By comparison, the industry reported investment revenue of about $3.8 billion in the previous year.
Despite this setback, risk products, including individual disability income insurance (DII), performed strongly during the same period. APRA reports that net profit from risk products increased to $1.14 billion from $745.6 million in the previous year, with the improved profit largely driven by the $1.1 billion profit recorded by individual DII.
The regulator attributes this increase to movements in bond yields, repricing activities, and the release of Covid-19 reserves throughout the year.
Group lump sum and group DII business also reported profits of $33.7 million and $352 million, respectively, in contrast to a $165.9 million loss and $6.6 million profit the previous year. APRA explains that the improved results were due to lower net policy expenses for group lump sum business and reserve releases for group DII.
However, individual lump sum was the only risk product in the red, reporting a $329.2 million loss, primarily due to an increase in net policy expenses, according to APRA.
While the life industry's investment losses have stung the sector significantly, the strength of its risk products provides some optimism for the future. Industry players will need to remain vigilant and strategic in their investments to navigate the unpredictable financial landscape ahead.
Published:Friday, 10th Mar 2023
Source: financialservicesonline.com.au
Share this news item:
Aussie Insurers suffering underwriting losses despite increasing investment income.


26 May 2023: .financialservicesonline.com.au

The Australian Prudential Regulation Authority (APRA) has released an industry update that revealed general insurers faced a $100 million underwriting loss in the first quarter of the year. This was a significant drop from their earnings of $1.6 billion in the preceding quarter. The primary reason for this loss is the increase in gross incurred claims, which rose 40.6% from $10.2 billion to $14.4 billion in the December quarter.

- read more
Leaving the Scene of an Accident Results in Denied Insurance Claim


26 May 2023: .financialservicesonline.com.au

Getting into an accident can be a traumatic and stressful experience for anyone. However, having a claim denied by the insurer for not adhering to their policy's conditions can add frustration and confusion to an already difficult situation. Recently, an insurer in Australia declined a claim after the driver left the scene of the accident. But was it the right decision? Let's take a closer look.

- read more
Victorian Government's Game-Changing Decision to Eliminate Business Insurance Duty


24 May 2023: .financialservicesonline.com.au

The Victorian Government's recent announcement about the abolishment of business insurance duty over a period of 10 years marks a significant milestone in driving economic growth. This move has been hailed as a game-changer since the taxes imposed on insurance can distort business decision-making, causing under or non-insurance, which in turn can cost the state economy more than $100 million annually.

- read more