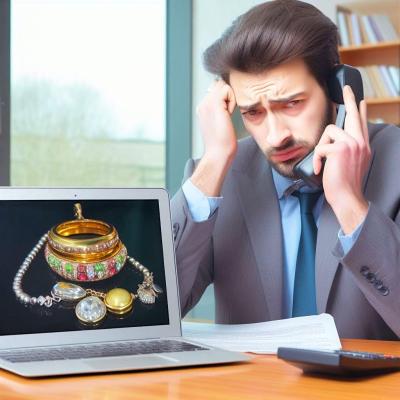 A policyholder's complaint, in which his jewelry claim was denied by an insurer due to his refusal to provide phone records, has been unsuccessful in overturning the decision.
The policyholder filed the claim on behalf of his mother, who suffers from dementia, after she lost a bag containing valuable jewelry and other items during a walk on the beach on September 6 of last year. The loss was reported to the police on the following day, and the claim was subsequently filed with Suncorp on September 14.
As part of its investigation into the claim, Suncorp requested various pieces of information from the policyholder, including valuation certificates for the lost jewelry, bank statements, and phone records covering the period from August 20 to September 20.
The policyholder complied with some of the requests but refused to provide the phone records, claiming it would violate his privacy and was unnecessary for the investigation.
Suncorp argued that the phone records were relevant for confirming the circumstances of the loss and the policyholder's movements during that period. Despite sending multiple follow-up letters to the policyholder regarding the request, Suncorp ultimately denied the claim, citing the policyholder's failure to cooperate as the reason for being unable to complete its investigation.
The Australian Financial Complaints Authority (AFCA) supported Suncorp's decision, stating that the phone records were indeed relevant to the claim. AFCA's ombudsman acknowledged the policyholder's privacy concerns but emphasized that the insurer is bound by the terms of the Privacy Act 1988 (Cth), which regulates the use and disclosure of personal information by insurers.
AFCA further confirmed that the insurer had the right to decline the claim due to the policyholder's non-compliance with the information request. The authority specified that it would only consider reopening the investigation if the phone records were provided.
"Since the policyholder did not provide the records, despite their reasonable request by the insurer, I am satisfied that he has failed to cooperate as required under the policy," stated AFCA.
"Until the policyholder provides the phone records and bank statement, the insurer is within its rights to deny the claim on the grounds of non-cooperation," the authority concluded.
The ruling also addressed the policyholder's allegations against Suncorp's investigator regarding improper conduct after questions were raised regarding the health and cognitive ability of the policyholder's mother.
AFCA clarified that the investigator's inquiries about the policyholder's mother, who is the policyholder herself, were general and non-intrusive. The investigator clarified that the purpose was to assess whether the policyholder's mother had the capacity to participate in an interview.
Recognizing that the dementia was too advanced for an interview, the investigator quickly moved on to other topics.
To view the full ruling, please click here.
Published:Saturday, 11th Nov 2023
Source: financialservicesonline.com.au
Share this news item:
Homeowner Successfully Challenges Insurer in Disclosure Dispute


09 Dec 2023: .financialservicesonline.com.au

A property owner, whose home was recently flooded, has won a legal battle against his insurer over the denial of his claim. The insurer, Auto & General Services, had alleged that the homeowner breached his policy terms by not disclosing a business operation in a farm shed on the property.

- read more
Senate Inquiry to Shine Spotlight on Insurance Outcomes in Retirement System


08 Dec 2023: .financialservicesonline.com.au

The Australian retirement system is under examination as a new Senate inquiry focuses on improving consumer experiences, choice, and outcomes. The Economics References Committee has been tasked with investigating various aspects, including general and life insurance, and is expected to deliver its findings by June 30, 2024.

- read more
Insurers Embrace New Model Allowing 'Simple Advice'


08 Dec 2023: .financialservicesonline.com.au

General insurers have been given the green light to offer 'simple advice' under a new model presented by Financial Services Minister Stephen Jones. The Albanese Government's response to the Quality of Advice Review (QAR) final report includes this move, which has received strong backing from the insurance industry.

- read more
Flood Damage: A Disproportionate Risk to Known Exposure


05 Dec 2023: .financialservicesonline.com.au

Flood events have accounted for a staggering 54% of losses from declared insurance events in the past five years. Surprisingly, these losses occur even though only a small percentage of properties are known to be at risk, according to a submission by the Insurance Council of Australia (ICA) to a parliamentary inquiry.

- read more